Holmes and Houdini
An extract from the novel by I.A. Watson
<![if !supportEmptyParas]> <![endif]>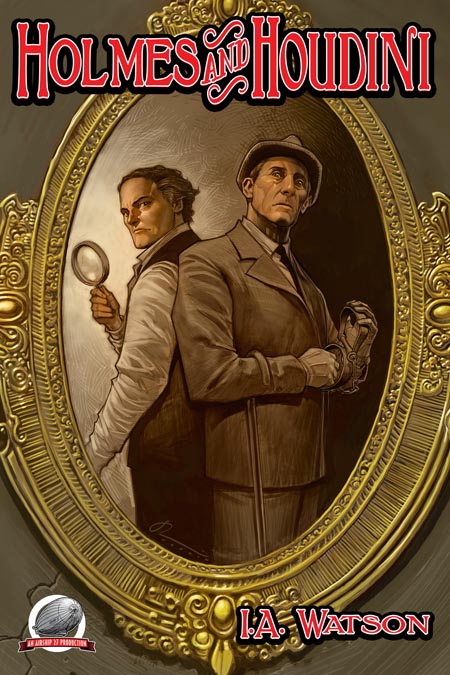 <![if !supportEmptyParas]> <![endif]>
An account by Dr John H. Watson of his meeting with American impresario Mr Martin Beck, managing agent of Mr Harry Houdini:
<![if !supportEmptyParas]> <![endif]>
     I met with Beck at the Savoy Grill on the Strand, which I had heard did excellent kippers. We ordered Yarmouth bloaters in butter sauce and settled to our meal. The portly American was delighted to push across a pair of complimentary tickets to his client's first return performance at the Lyceum.
     "Come if you can," he encouraged me. "It'll be a riot – although not the kind that occurred in our debut there last year."
     I knew of the strange events at the venerable Wellington Road theatre from Holmes' clippings book. "Your Houdini is an interesting character," I opined.
     Beck snorted. "You have no idea! Well, perhaps you do, given your fellow-lodger. I first saw Harry Houdini in a little backwater called Woodstock, Illinois, peddling a mixed act of card tricks, conjuring, and escapology. Tracked him down at a Minnesota Beer Hall where he was calling himself the King of Cards. Encouraged him to concentrate on the locks and chains stuff – you can't throw a stone near a vaudeville stage in the States without hitting a dozen 'Is this your card?' merchants, but there's very few can do what that man's able to with a sealed box. Signed him exclusive to the Orpheum – that's my entertainment outfit. I've been trying to manage him ever since."
     "Trying?"
     "Oh, Harry has his own ideas about what he wants to do. The ideal client would turn up at his performances, sober and punctual, do his act, take a bow, talk to the press, and retire quietly till it's time to get on the train to the next venue. That's all we agents ask, really."
     "Houdini is not sober and prompt?"
     "Oh, that's not my problem, Dr Watson. I could handle an unprofessional drunk. I have done. But a guy who insists on chasing down frauds and hucksters, who'll never turn his back on a gal in distress or a puzzle that can't be solved? It makes for an exciting tour, you know?"
     I couldn't restrain a sigh of sympathy. "There are some men who are fated for such extraordinary adventures, I'm afraid."
     "And some who have to put up with 'em," Beck replied. "Come to the opening if you can. Houdini's a big admirer of Sherlock Holmes. He'd like to meet him."
     "Holmes is shy of publicity," I warned. "I doubt he'd wish to participate in Mr Houdini's show."
     Beck shook his head. "Actually, your friend is about the only famous man in the world who I'd keep off a stage with Harry. Houdini's in the habit of getting Police Chiefs and Lord Mayors and what-have-you to search him before he gets locked up, to prove he's not made any preparations to cheat his captivity. I don't think it'd be smart to ask Sherlock Holmes to do that, do you?"
     I chuckled at the thought. "Probably not."
     "Just call in and enjoy the show if you can. We'll be debuting a new trap. I can't say what, yet, but its good. And we'll be doing one of Houdini's big set piece challenges two days before, a stunt at Tower Bridge next Saturday. It'll be big."
     "I can't make any promises. Holmes has a new case which is drawing all of our attention."
     "And he doesn't want any distractions, right? Obsessive about getting every detail nailed down and shining a light into every shady corner? Yeah, I've been there. Still, if you do drag him out to the show make sure you call backstage before or afterwards. I know Houdini would be pleased as punch to meet you and your pal."
     Our conversation progressed on, comparing and contrasting our unusual friends. Beck outlined some incidents that had distinguished Houdini's European tour so far. I described Holmes' recent adventures at the Priory School and the affair at Thor Bridge. The American agent revealed some details of his principal's exploits in the Parisienne catacombs against the notorious Far Edge Club. I sketched out some background on the Abergavenny murder and the case of the Six Napoleons.
     Eventually our talk turned to our mutual friend Arthur Conan Doyle, whom Beck had met under odd circumstances. That in turn led me to casually enquire, "What of the young woman with whom he was engaged in such lively discussion?"
     The theatrical agent smiled. "Ah, yes, I noticed that you noticed her. Very notice-worthy, Mrs Morgaine Kent. Widowed for some years, you know. I asked Galpin about her afterwards."
     "She seemed to be a lady of strong views. I fear I might have offended her."
     "She sure got Doyle worked up, didn't she? You Brits have gotten yourselves in a proper tangle over this South Africa stuff. I don't know whether as former colonials who won free from your empire's tyranny we should be rooting for the Boer rebels, or as trans-Atlantic partners in democracy we should be cheering you as you stand up for helpless settlers against armed raiders."
     "It's a complicated matter. Do you happen to know where I might find Mrs Kent to make amends for any offence?"
     "Or to continue the argument?" Beck suggested. "She was part of Mrs Fawcett's Ladies' Commission, wasn't she? I guess you could apply at Mrs Fawcett's National Union of Women's Suffrage Societies – if you dare."
<![if !supportEmptyParas]> <![endif]>
***
<![if !supportEmptyParas]> <![endif]>
Continued in the mystery adventure novel HOLMES AND HOUDINI by I.A. Watson from Airship 27 Press
<![if !supportEmptyParas]> <![endif]>
"Holmes and Houdini"
ISBN-10: 0997786809
ISBN-13: 978-0997786804
Published by Airship 27
Release date: January 2017
Retail Price: $16.99
Kindle version available
$3 e-version also available at The Airship 27 Hangar
<![if !supportEmptyParas]> <![endif]>
<![if !supportEmptyParas]> <![endif]>
An extract from HOLMES AND HOUDINI
Copyright © 2016 reserved by Ian Watson.
<![if !supportEmptyParas]> <![endif]>
The right of Ian Watson to be identified as the author of this Work has been asserted by him in accordance with the Copyright, Designs & Patents Act 1988. All rights reserved, including the right to reproduce this book, or portions thereof, in any form, save for brief passages to be quoted in reviews. No parts of this publication may be reproduced, stored in a retrieval system, or transmitted in any form or by any means, electronic, mechanical, photocopying, recording, or otherwise, without the prior written permission of the copyright owner.
<![if !supportEmptyParas]> <![endif]>
Cover art: Chad Hardin
<![if !supportEmptyParas]> <![endif]>
<![if !supportEmptyParas]> <![endif]>